Patronage, A Way to Support Essonne's Drawing Power
"The Essonne is brimming with illustrious names and treasures built with daring, recalling the great moments in history."

Stéphane Bern
Patron of the
Fondation Essonne Mécénat


For all information,
contact:
Fanny Malvezin
Département of Essonne
Email: mecenat(at)cd-essonne.fr
Tel. +33 1 77 58 12 60
Essonne's future is everyone's business. By becoming a patron of the Essonne Patronage Foundation, you not only become an Ambassador of the Department of Essonne, but an Ambassador of a universal heritage as well.

Just like Stéphane Bern, a distinguished sponsor of Essonne Patronage, you will closely contribute to the development and drawing power of your region. Your will participate in the development of departmental sites whose patrimonial interest goes far beyond Essonne's borders, thereby promoting France's cultural and tourist influence.


Essonne Patronage : Making an Exceptional Public Heritage Shine even Brighter

The Estates of Chamarande and Méréville, Foujita's house-workshop, the French museum of photography, etc. Some of the Department's cultural and environmental gems require significant investments for their conservation as well as to make them accessible to all under the best circumstances.

Thanks to the Essonne Patronage Foundation and the generosity of its patrons, it will be possible to:
Preserve, restore and highlight the department's patrimony;
Conserve, restore and acquire artworks and objects that will supplement collections in departmental museums and estates.


The funds collected will be allocated to the various sites and different construction projects will be identified, according to the priorities defined by the Essonne Patronage's executive board, in accordance with the patron's wishes.

>> Download the configuration of the Essonne Patronage Executive Board [pdf] (pdf - 190 Ki)

Moreover, Essonne Patronage is the first foundation at the departmental level to be included under the umbrella of the Heritage Foundation.
The Heritage Foundation, officially recognized as a non-profit organization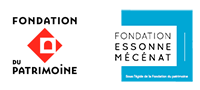 Recognized as a non-profit organization, the Heritage Foundation's mission is to safeguard and promote:
Unprotected rural constructions (houses, churches, bridges, industrial heritage, furniture, etc.)
Protected and natural patrimony


In connection with the main stakeholders from the region and the Government, it helps public and community proprietors finance their projects, exempts private owners, fully or partially, from taxes related to construction and mobilizes corporate patronage.

>> The Essonne Patronage Foundation's page on the Heritage Foundation's website
Ils soutiennent la fondation Essonne Mécénat

| | | |
| --- | --- | --- |
| Société Suez | Crédit Agricole d'Île-de-France Mécénat | Fondation Crédit Agricole - Pays de France |
et aussi

Fédération Française du Bâtiment de l'Essonne, Mairie de Méréville, Les Macarons Gourmands, Idées Fraîches, Chambre de métiers et de l'artisanat de l'Essonne, Loca Images, Vanilles de France, Beaubourg Audiovisuel, Probinord, ECF, SIGAL, Dubault-Biri & Associés.