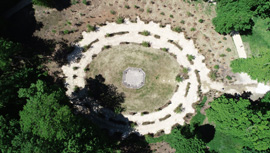 The Game of the Goose
The Game of the Goose, is the first project to be financed by the Essonne Patronage Foundation!
Classified as a Historical Monument and certified as one of the "remarkable gardens of France", the departmental estate of Chamarande is also the home to a life-size game of the goose. Only three games of this type were created under Louis XV, here in Chamarande as well as in Chantilly and Choisy-le-Roi.

Created by the architect Pierre Contant d'Ivry in 1742, it was forgotten about for many long years. Frédéric Sichet, a landscaper and garden historian, imagined a new, contemporary and historically respectful project for the Essonne Department with, in particular, the planting of new varieties.

The game of the goose reopened to the public in June 2018 after six months of renovations. The restoration of this landscaped game, which cost a total of €192,917, was the first project to have been partly financed by patrons through the dedicated fund launched by the Essonne Patronage Foundation. The patrons, invited to the inauguration, were able to throw giant dice provided for the public.
The patrons of the Game of the Goose:
M. Imed BENAMEUR
Mme Amanda GALSWORTHYM
Gilbert GARNIER
Mme Laurence GUILLERMIN
M Pierre LABRIEM et Mme NICOLM
Jacques ROBERT
Mme Marie-Ange TASSEMKA
Mme Angélique MIGNON
M Brice THOMAS
Société FIDELIO
And the Company Loca Images, which sponsored one of the spaces in the game